Yolobus Celebrates National Disability Independence Day with Free Rides Systemwide!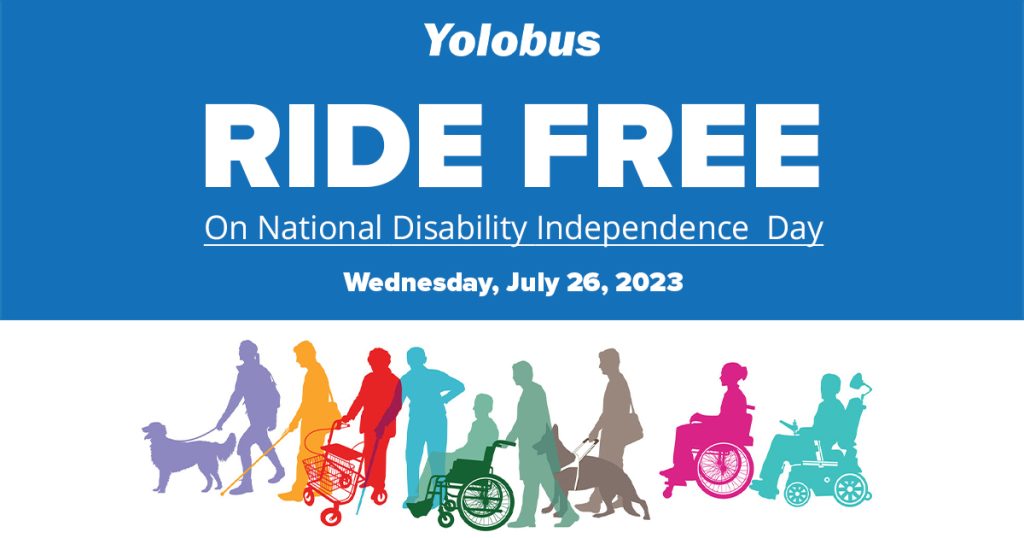 We are thrilled to announce an exciting initiative in honor of National Disability Independence Day. On Wednesday, July 26, 2023, Yolobus will be offering free rides systemwide to commemorate this important day and support the inclusivity and independence of people with disabilities.
What is National Disability Independence Day?
National Disability Independence Day falls on July 26th every year, celebrating the remarkable milestones achieved with the passing of the Americans with Disabilities Act (ADA) in 1990. This significant legislation aimed to ensure equal rights and opportunities for individuals with disabilities, creating a more accessible and inclusive society.
Joining Hands for Inclusivity: Yolobus Goes the Extra Mile
We firmly believe that accessibility should be a right, not a privilege. In line with our commitment to providing exceptional service for all members of the community, we are excited to offer free rides on all our routes throughout the day on July 26, 2023.
How to Ride for Free!
On July 26th, simply board any Yolobus vehicle and enjoy the journey free of charge. This offer is available to all passengers, not just those with disabilities, to foster a sense of community and raise awareness about the importance of inclusivity.
Need Help Riding?
If you need help with boarding, please don't hesitate to ask our trained bus drivers for help! If you need help planning your trip or accessing our services, please give us a call at (530) 666-BUSS (2877).